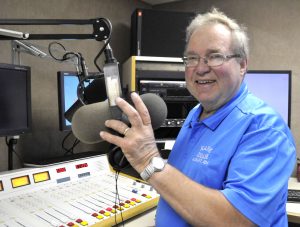 Make every Sunday morning a special one and tune in to Cy Pfannenstein. Cy features many of your favorite spiritual selections and ALWAYS takes your requests. Music & Memories with the Patton-Schad Funeral Service is featured every Sunday from 8am-8:30am – taking time to remember those loved ones who have passed away. Another favorite is Cy's email corner around 10:30am. Don't miss Musical Treat for Dancing Feet at 11:45am as Cy features a musical guest interview followed by their music. As Cy says…"and keep up the good work!"
Past Broadcasts of Musical Treat with Cy Pfannenstein:
Program No. 250 June 17th, 2018 – Sherwin Linton
Program No. 249 June 10th, 2018 – Nathan Neuman
Program No. 248 June 3rd, 2018 – Randy Eckhart
Program No. 244 May 6th, 2018 – Chmielewski Polka Family
Program No. 243 April 29th, 2018 – Jay Pattison
Program No. 239 April 1st, 2018 – Ross Scalise
Program No. 238 March 25th, 2018 – Fred Walter
Program No. 233 February 18th, 2018 – Sue Sands
Program No. 232 February 11th, 2018 – Ken Machelski
Program No. 231 February 4th, 2018 – Gene Eiden
Program No. 230 January 21st, 2018 – Ray Theis
Program No. 229 January 14th, 2018 – Tom Willard
Program No. 228 January 7th, 2018 – Dale Pexa Jr.
Program No. 227 December 31st, 2017 – Larry Roepke
Program No. 226 December 24th, 2017 – Theresa Herzog
Program No. 225 December 17th, 2017 – Al Drage
Program No. 224 December 10th, 2017 – Steve Moran
Program No. 223 December 3rd, 2017 – Crystal Malek
Program No. 222 November 26th, 2017 – Rick Keane
Program No. 218 October 15th, 2017 – Lyndon Baines Johnson
Program No. 217 October 8th, 2017 – Travis Ramacher
Program No. 216 October 1st, 2017 – Jerry & Joyce
Program No. 215 September 24th, 2017 – Kris Keltgen
Program No. 214 September 10th, 2017 – Madonna Brueggen
Program No. 212 August 27th, 2017 – Col. Frank Imholte
Program No. 211 August 20th, 2017 – Dick Tady
Program No. 206 July 2nd, 2017 – Fred Walter
Program No. 205 June 25th, 2017 – Steve Harris
Program No. 204 June 18th, 2017 – Eric Malek
Program No. 203 June 11th, 2017 – Joe Carlson
Program No. 202 June 4th, 2017 – Henry Stockard
Program No. 201 May 28th, 2017 – Ray Trobec
Program No. 200 May 21st, 2017 – Roger Schultz
Program No. 199 May 14th, 2017 – Jim Jansky
Program No. 198 May 7th, 2017 – Jeff Engholm
Program No. 197 April 30th, 2017 – Pat Brenny
Program No. 196 April 23rd, 2017 – Barb Lilly – daughter of Wally Pikal
Program No. 195 April 16th, 2017 – Joyce Dauer – Northside Dutchmen
Program No. 194 April 9th, 2017 – Chmielewski Funtime Band
Program No. 193 April 2nd, 2017 – Ken Schmidt
Program No. 192 March 26th, 2017 – Melinda Ruprecht
Program No. 191 March 19th, 2017 – Ray Drontle
Program No. 190 March 12th, 2017 – Jim Eisenschenk
Program No. 189 March 5th, 2017 – Dan Albrecht
Program No. 188 February 26th, 2017 – Matt Hodek
Program No. 187 February 19th, 2017 – Leo Wiechmann
Program No. 186 February 12th, 2017 – Ken Mikula
Program No. 185 February 5th, 2017 – Jolene Wendinger
Program No. 184 January 29th, 2017 – Gail Schuch
Program No. 183 January 22nd, 2017 – Norma Gordon
Program No. 182 January 15th, 2017 – Nancy Buckentine
Program No. 181 January 8th, 2017 – Jerry Schneider
Program No. 180 January 1st, 2017 – Jerry Kahle